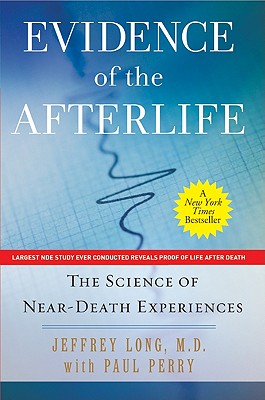 Evidence of the Afterlife: The Science of Near-Death Experiences
Publication Date:
January 4th, 2011
The Nook
1 on hand, as of Jan 28 12:51pm
On Our Shelves Now
Description
"There is currently more scientific evidence to the reality of near death experience (NDE) than there is for how to effectively treat certain forms of cancer," states radiation oncologist Dr. Jeffrey Long is his groundbreaking new book Evidence of the Afterlife. In 1998 Dr. Long and his wife, Jody, began the Near Death Experience Research Foundation with the goal of creating a forum for near death "experiencers" to share their stories. Grounded in first-hand evidence culled from over 1,600 verified NDE accounts, Evidence of the Afterlife presents the strongest argument yet for the underlying truth of those who have died and returned to share their tales.
Praise for Evidence of the Afterlife: The Science of Near-Death Experiences
"Dr. Jeff Long and journalist Paul Perry have done a phenomenal job in clarifying current events in the study of near-death experiences. Dr. Long's work is leading us closer to a rational solution of the afterlife mystery." — Raymond Moody, M.D., Ph.D., author of Life after Life
"This important book about near-death experiences provides compelling evidence that mind and consciousness cannot be reduced to brain activity." — Mario Beauregard, Ph.D., Neuroscientist at the University of Montreal and co-author of The Spiritual Brain
"If someone asked for proof that life after death exists, refer them to this book. Dr. Long and Paul Perry have gone way beyond faith and into science, providing us with well-documented proof of what we have known absolutely for 35 years - there is life after death." — Dannion and Kathryn Brinkley, authors of Saved by the Light and Secrets of the Light
"Is there life after death? ...Radiation oncologist Dr. Jeffrey Long argues that if you look at the scientific evidence, the answer is unequivocally yes. Drawing on a decade's worth of research on near-death experiences... he makes the case for that controversial conclusion." — Time.com
"Long answers skeptics . . . does a fine job of summarizing some of the transformative changes from NDEs.... The end result of all this testimony, according to Long, is 'there is life after death.'" — Spirituality and Practice